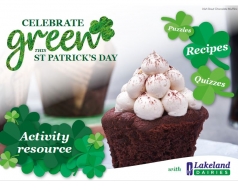 Steeped in Irish heritage, Lakeland Dairies, launches its annual Celebrate Green campaign, with a 'takeover' of the month of March. The campaign embraces our co-operative's excellence in dairy farming, alongside our heritage in churning high-quality milk into professional products trusted by chefs.
Brand New Recipe and Activity Book 
This year's campaign focuses on celebrating the lush green grass of our Co-Operative's family farms and Irish traditions. To launch the campaign, we have created a brand-new resource packed with recipes and activities, designed especially to inspire care settings to host an Irish themed party for St Patrick's Day.
The activity resource serves as an inspiration for both care home residents and staff, full of interesting snippets, cooking tips and expert advice for perfect Irish-themed dishes. The resource also contains a host of Irish inspired fun activities to encourage engagement across residents and staff. 
In addition to this, there is also a chance to win of one of ten free Animal Farm Aquapaints, specialist products designed for residents living with dementia, when claiming the free activity resource. 
Paul Chmielewski, Head of Marketing and International at Lakeland Dairies comments:
"Our Celebrate Green campaign for St Patrick's Day is a great opportunity to embrace our Irish heritage and celebrate our dairy farming expertise. For more than 100 years we have been producing high-quality, wholesome and nutritious milk. Our milk is made from contented cows which graze freely on lush, green pastures of our family farms, located on the beautiful Isle of Ireland. We are delighted to help care caterers celebrate St Patrick's day this March with our recipe and activity booklet"
Inspired by Lakeland Dairies' Irish provenance, the activity book features various recipes using our portfolio of high quality products including Millac Gold Double with Added Vitamin D. 
Known for its creamy taste and stability, Millac Gold Double with Added Vitamin D is a delicious, versatile cream alternative. Ideal for whipping, cooking and pouring, the Added Vitamin D aids the body's absorption of calcium. Recipes include a delicious Salmon Mouse, an Irish Moss Panna Cotta and a scrumptious White and Black Pudding.