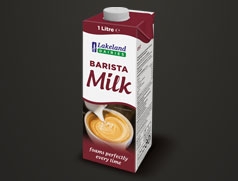 The latest addition to Lakeland Dairies portfolio of dairy solutions, new Barista Milk has been developed to help caterers deliver the ultimate long-lasting frothy coffee.
Barista Milk's foaming capabilities means operators are guaranteed a smooth, dense and long-lasting frothy beverage every time it's used. From cappuccino and lattes, to hot chocolate, this new generation of milk can be foamed and re-foamed, and is enhanced to ensure a consistent foam texture is guaranteed throughout the year.
Simon Muschamp; Head of Marketing at Lakeland Dairies Foodservice, comments: "Today's consumer is a coffee expert with a high level of expectation when it comes to their coffee experience – wherever they're buying it. The launch of Barista Milk means no matter the time pressures, staff experience or equipment available, caterers can offer a great tasting,  frothy coffee that will last right until the bottom of the cup."
Containing just 1% fat, Barista Milk is suitable for use in all barista style coffee machines and can be stored ambient until opened – making it especially ideal for those with limited fridge space including mobile caterers. It also reduces the wastage associated with using fresh milk, helping to boost the bottom line.
Simon adds: "Anyone working in the mobile catering, events or street food market will know that fridge space comes at a premium and having a hot beverage offering will mean precious storage being taken up by keeping milk chilled. The launch of Barista Milk not only removes this headache, but it can also help caterers take positive steps to reducing costly food waste. With a six month ambient storage, a one litre pack only needs to be chilled once it has been opened, making it the sustainable option for businesses and the environment."
Available now, Barista Milk comes in a one-litre easy pour tetrapak edge format to keep drips at bay, and is re-sealable for ease of use and storage.
Lakeland Dairies is one of Ireland's largest farmer-owned dairy co-operatives. Their cows graze on lush, green pastures producing high quality milk, which is collected from over 2,400 family farms on a daily basis. Using unrivalled expertise and state of the art machinery, they process over 800 million litres of milk into their range of value added dairy products, including Barista Milk.