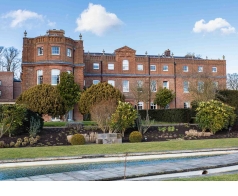 Offering an escape from the hustle and bustle of city life is The Grove; a luxurious five star hotel set in 300 acres of countryside in Chandler's Cross, Hertfordshire, just 20 miles from the centre of London. As well as a peaceful haven for guests to rewind and relax, The Grove is also a gastronomic heaven, playing host to a range of dining experiences including Colette's fine dining restaurant, which boasts 3 AA Rosettes and features in the 2014 Good Food Guide, and its buffet-style theatre restaurant, The Glasshouse, where food is freshly cooked in front of customers' eyes. In addition, the hotel offers small scale banqueting, afternoon tea and room service.
Under the expert guidance of executive head chef Harry Lomas, the 70 strong kitchen brigade uses only the freshest, seasonal ingredients from local and well-known suppliers, as well as fruit and vegetables grown and handpicked in its very own walled garden.
Serving over 1,000 meals a day, one of the biggest challenges the chefs at The Grove face is preparing freshly made dishes to the same standard and consistency every single day. This is an issue which using Millac Gold Single, a cream developed specifically for cooking, has helped overcome.
"Millac Gold Single is fantastic to use on a day-to-day basis," says Chef Ben Crocker who uses it for the creamy mash potato in his Fishermen's Pie, to create a rich filling for his Bacon and Leek Filo Quiche, and a thick, glossy béchamel sauce for his Mexican take on a lasagne.
"Whether it's making sauces to order or heating pies in the oven, Millac Gold Single just doesn't split and it keeps its consistency every single time."
For Head Pastry Chef Reece Collier, Millac Gold Single eliminates a number of issues associated with using fresh dairy cream, especially in his two signature dishes – chocolate mousse and a spring-inspired vanilla panna cotta.
He comments: "When we boil Millac Gold Single with the milk for the panna cotta for example, it doesn't split which is fantastic, and even when we add acidic ingredients, which would normally cause cream to split, it still doesn't split, making it that much more versatile."
As well as its versatility, another key benefit in the busy kitchen at The Grove is the fact that Millac Gold Single helps to speed up service and reduce wastage, as Reece explains: "As chefs we all know that thickening a sauce can be very time consuming and there is also the chance it may burn, but Millac Gold Single thickens instantly so there is no need to reduce it, a huge benefit during busy service."
With the high volume of customers that The Grove caters for each day, consistency is not the only concern; maintaining wastage is of the upmost importance too. With a six month ambient shelf life, Millac Gold Single outperforms fresh cream, which lasts only a few days.
"For us, using Millac Gold Single as opposed to fresh dairy cream is a lot better as its long shelf life means it's less perishable so wastage is lower," remarks Ben.  
Reece adds: "As a pastry chef it's great to have a product that is there and is consistent but which you can store at ambient temperature and use as and when it's needed."
Catering for the great number of customers it does, The Grove is often asked to meet requests for special dietary requirements, something it can easily accommodate.
"The fact that Millac Gold Single is lactose-free makes perfect sense for us to use it in all our recipes to meet those customers' needs," says Reece. "At the same time, it's nice to have that reassurance that we can offer the same products at the same consistency and flavour."
So would Reece and Ben recommend Millac Gold Single to other chefs? Reece say "As a pastry chef working in a the hotel industry, I'm always looking for products that are versatile; Millac Gold Single is a product I'd recommend to other professionals, simply for the consistency, ease of storage and its delivery."
Ben adds "Millac Gold Single is unique; being lactose free and lower in fat versus fresh dairy cream makes a big difference. Using it on a day-to-day basis means you can control waste and your standards – It's a lot safer and easier to use throughout your kitchen."
Follow the links below for full recipes:
Vanilla Bean Panna Cotta with Fresh Berries