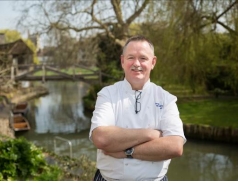 Challenges Fergus Martin, Head Chef at a leading Cambridge college understands only too well. His brigade of just four chefs can be catering for up to 200 students at lunchtime, around the same numbers in the evening and twice a week will need to quickly turn the halls around to accommodate a formal dinner for up to 120 guests. Add to this the wide range of international students, varied tastes, as well as special diets – and the college kitchen is a busy, fast-paced environment requiring products that are versatile, easy to use and consistent.
One of the ingredients Fergus has come to rely on since moving to the college 12 months ago is Pritchitts' Millac Gold Single, a long life cream alternative to fresh dairy cream which he uses to create a range of sauces to accompany meat, fish and pasta dishes. Fergus comments: "Time is one of the biggest constraints for us and reducing sauces is something we have to do a lot of. One of the benefits we found when using Millac Gold Single over fresh dairy cream, was that the reducing time is cut considerably, which means we can create sauces more quickly and effectively without affecting the flavour or the consistency of the finished product."
"Another advantage we found with Millac Gold Single is that, if during a formal hall service, we need to make a little more sauce, it's something we can do very quickly by reducing down some Millac Gold Single in a pan with some stock."
With Millac Gold Single proving much more stable than fresh dairy cream – it can be used with acidic ingredients, heated and reheated all without splitting – Fergus has been able to use it across a wide range of recipes and develop a menu which will retain students' interests, as well as keep them coming back for more. A popular recipe is Baked Fillet of Hake with Prawns, Cream Curry and Coriander Sauce.
"This was a recipe that originally used yoghurt but we found the dish would actually split very readily," explains Fergus. "I adapted it by putting in Millac Gold Single instead and the sauce doesn't split, it gives a much nicer finished dish, plus it doesn't affect the flavour in any kind of way."
Likewise, with Fergus' Lamb Meatballs with Fettucine, Garden Peas and Gruyere Cheese –one the students' most popular dishes – Millac Gold Single has overcome a key issue, as Fergus explains: "Lamb tends to be quite fatty which can affect a cream sauce and cause it to split – especially if used on the hot plate. We used to use a little bit of flour or arrowroot to thicken the sauce but by using Millac Gold Single we don't need to do that. Lamb will also put out a bit of fat as it sits on the hot plate but with Millac Gold Single the sauce isn't affected, so it's as good when it goes out on the hot plate, as when we take it off."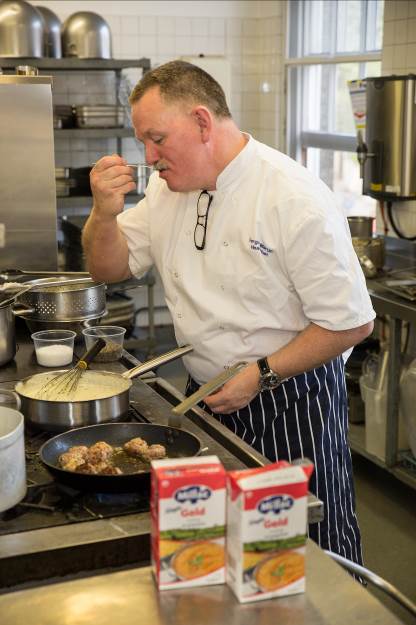 With Fergus no longer needing to add a thickening agent to his sauces, the kitchen is not only saving on the cost of ingredients but its dishes are now suitable for those following a gluten free diet too. Special dietary requirements are something the college has to be particularly mindful of and it can cater for lactose, nut and gluten free, as well as low in fat, vegan and vegetarian diets. Millac Gold Single fits well into all these categories enabling Fergus to meet these demands without needing to adapt his recipes.
He adds: "Millac Gold Single is lactose free and lower in fat than fresh dairy cream which means – even with everybody trying to eat more healthily – we are able to provide lighter cream sauces with pasta and fish dishes, which is a real benefit.Being an ambient product with a shelf life of six months, the college finds Millac Gold Single a much more convenient and cost-effective ingredient compared to fresh dairy cream, especially taking into consideration the college's term time operations. Over the holiday period we sometimes run a reduced kitchen and we might lose students for a few days here and there when they are off site with their studies. As a results there are occasions where fresh dairy cream has been left sat in the fridge and gone off. As Millac Gold Single is an ambient product it can be left happily in the store cupboard and can be readily available when we need it – so there's no wastage."
Fergus is keen to recommend Millac Gold Single to other chefs, saying: "Millac Gold Single is very user-friendly, it doesn't split and the time to cook the dishes is reduced so I have more time to develop dishes that our students love."
Follow the links below for full recipes:
Lamb Meatballs with Fettucine, Garden Peas and Gruyere Cheese
Fricassee of Pheasant with Celery and Pancetta
Chicken, Wild Mushroom and Asparagus Terrine
Butternut Squash, Sweet Potato and Cashew Nut Gratin
Baked Fillet of Hake with Prawns, Cream Curry and Coriander Sauce