The competition is the biggest blind tasting of Irish food produce in the country and celebrates the very best food and drink products from thousands of entries each year. Moovers was the standout brand in the flavoured milk category, picking up both gold and silver awards for its strawberry and chocolate flavoured milk respectively.
Gerry Sheridan, Retail Sales Manager for Ireland at Lakeland Dairies says: "We are proud and delighted to have received not just one but two awards for our Moovers flavoured milk. These awards are a true reflection of the great taste and high quality standards of our Moovers products because they are judged using the Blas na hEireann judging system and criteria, now recognised as the international industry standard.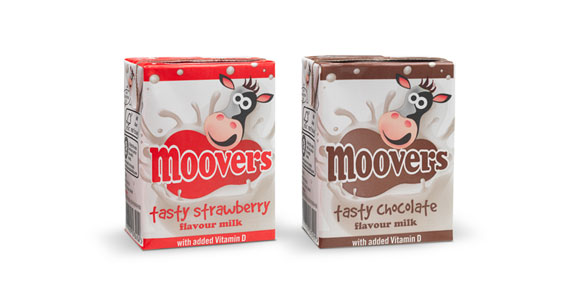 "Our Moovers flavoured milks are loved by parents with younger children and now with these prestigious new awards to shout about, we really do expect demand to increase and sales to go from strength to strength. It's yet another great reason for convenience retailers to stock up."
Moovers Flavoured Milk is made with semi-skimmed milk and added vitamin D. Available in three delicious flavours - strawberry, chocolate and banana. Targeted at the core market of parents shopping with younger children they are a great alternative to sugary drinks. The range is school compliant and available in 200ml cartons with a straw which makes them perfect for lunchboxes and on-the-go consumption. The fun packaging and ready-to-drink format presents retailers with a fantastic opportunity to cash in on impulse sales.
The Moovers range has the following key features and benefits:-
• Comply with current national school guidelines
• Low in fat with no compromise on taste
• A healthy alternative to sugary drinks
• Added vitamin D
• No more than 3.5g added sugar per 100ml
• Made with real fruit juice (banana and strawberry only)
• No artificial sweeteners, colours or preservatives
• Suitable for vegetarians, naturally gluten free and GM free
• Ambient storage with 7 months shelf life
• Handy 200ml carton with straw
• Full recyclable packaging (where carton facilities exist)
The full range is available in cases of 12 which is the ideal size and stock-holding for all convenience retailers.
To find out more about Lakeland Dairies call 00 353 494 364 373