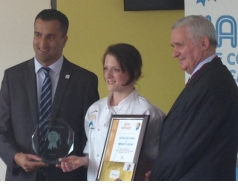 The NACC Care Cook of the Year is one of the longest-standing, independent competitions in the UK and raises the pofile of talented chefs and cooks working in the care sector.
This year due to an unprecedented rise in the number of entries, 12 finalists were chosen to take part in the final round cook off held on 12th June. Jennie-May Smith's recipe of smoked makeral frittata, roasted root chips and probiotic beets, followed by lemon posset with hemp thins and berries, wowed the judges to win first prize ahead of Giles Conroy and Gareth O'Hara.
Jenny-May first became interested in food and nutrition whilst working as an amateur jockey, quickly realising the importance of a healthy diet in achieving the optimum performance.
Jenny-May says that creating nutritious, balanced meals for her residents to enjoy, gives her total job-satsifaction every day. This is the second consecutive year that Hadrian Healthcare has won this prestigious award - Well done Jenny-May!