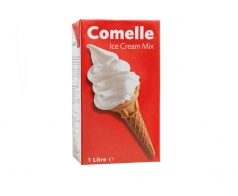 We've introduced a bold new pack design and point of sale items for Comelle Ice Cream Mix, giving customers and caterers the upper hand in meeting the summer surge in demand for the iconic whipped ice creams. 
Both the re-designed Comelle pack and promo material benefit from featuring a photo of the classic summer favourite and are designed to entice and drive seasonal sales. The new pack is available now as well as the caterer promotional items which include branded vinyl stickers, flags and pavement swing signs.
A trusted favourite among caterers, Comelle offers great Vanilla taste, complete convenience and consistency with no additions needed to make the perfect cone. It is also suitable for vegetarians, GM and gluten-free and supplied ambient eliminating costly storage headaches at a stroke.    
Simon Muschamp, Head of Marketing, says: "With a new look on our pack and our point of sale items we're giving one of our most trusted products a new face, and in doing so, helping customers to attract even more seasonal business. With Comelle Ice Cream Mix it's so easy; you don't need anything else to make the perfect final product. It also provides the perfect base for incremental sales opportunities with the addition of sauces, sprinkles and chocolate. We are advising customers and caterers to stock up on Comelle today to ensure they meet the summer demand. 
Caterers looking to update their point of sale items can call 020 8290 7020 for more details.