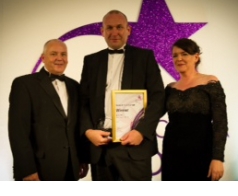 Pritchitts was proud to sponsor the 'Newcomer of the Year' award at the prestigious EDUcatering Excellence Awards held at the Royal Garden Hotel, London, on Monday 13th October.
Now in its fifth year the EDUcatering Excellence Awards annually recognise those outstanding individuals who have excelled within the schools meals sector – the 'stars' of the industry. An audience of almost 400 of the schools' catering elite witnessed Darren Neal of Wilson Jones Catering being crowned as 'Newcomer of the Year'.
The 'Newcomer of the Year category is open to employees who are new to a company or are in a new role within their existing company, who have made an impact within the last two years. Darren, an executive development chef at Wilson Jones impressed judges with several of his initiatives.  These initiatives included setting up a Chef's Academy where chefs meet up every 2 months to discuss menu ideas, a Baking Academy, an ethnic masterclass and healthy eating workshops for pupils.
Darren was thrilled to receive the award which was judged by an elite panel of his peers including members of LACA National Executive Council, Senior Local Authority providers, Directors of contract caterers, as well other influential figures from the school meals industry.
Darren is pictured receiving his award from Brian Kyle, Head of UK Foodservice  at Pritchitts.