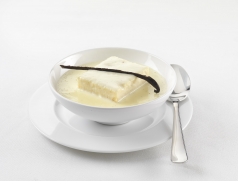 75%* of chefs who have taken up Pritchitts offer to trial - for free - its renowned cream alternative, Millac Gold, have said they will switch from rival products.
This major promotion gave caterers the opportunity to claim a free 1-litre pack of Millac Gold to discover for themselves how the Craft Guild of Chefs endorsed product can simplify the cooking process and reduce prep time and wastage. The feedback function will remain open until 31st December 2012, giving those who have yet to submit comments the chance to still be entered into a prize draw to win the latest Apple iPad as a reward for sharing their views. 
A large number of caterers who signed up for a free trial have already put Millac Gold to the test and their positive feedback underlines why so many chefs have already pledged to switch.
"Superb, I was using butter and cream before, Millac Gold doesn't split and reduced really well" enthused one respondent, while another "liked the versatility of it, the fact it's an ambient product is also ideal as storage is a problem. I also like fact that it doesn't split". Highlighting one of the benefits of the cream alternative over dairy cream, one chef observed, "It also held its consistency better than the product I'm currently using."
Simon Muschamp, Head of Marketing at Pritchitts said: "Pritchitts prides itself on being the chef's partner in the kitchen. We're delighted with the results so far indicating that so many professional chefs have decided to make the switch from their usual product."
Millac Gold was developed to meet the practical needs of chefs in a demanding cooking environment. The robust and versatile cream alternative is ideal for cooking, whipping and pouring. It offers the same texture and taste as fresh pasteurised dairy cream and reduces in the same way, but never splits during cooking and does not require chilled storage – both benefits that minimise costly wastage. 
*Based on independent sampling research with 90 chefs, October 2012