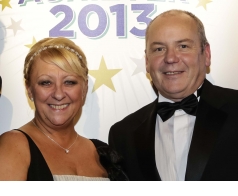 Debbie Cooper from Woodward Foodservice in Deeside, Flintshire, has been crowned Telesales Achiever for 2013 in Pritchitts' annual quest to reward the very best in foodservice telesales
The triumphant winner was named during the FWD Gold Medal Awards gala dinner at London's HAC Royal Artillery Gardens, held last night. Alongside the title and trophy, Debbie receives a cheque for £1000, courtesy of Pritchitts.                           
Debbie saw off stiff competition from joint finalists, Ashley Bull from 3663 in Abingdon and Claire Sharkey from Brakes in Runcorn. The trio emerged from hundreds of candidates, each coming through a three-tiered assessment, culminating in a stringent, independent evaluation. Debbie emerged triumphant showing exceptional skills in call management, relationship building, communication skills, product knowledge and closing.
Simon Muschamp, Head of Marketing at Pritchitts, said: "Choosing this year's winner was an incredibly hard call as all three finalists thoroughly impressed the judges with their professionalism, dedication and skill and Debbie emerged just ahead of the other two to snatch the crown. Congratulations to all three finalists who set the bar so high and a big thank you to everyone who took part in our celebration of the telesales role, so vital in forging firm relationships with customers and maximising day-to-day trading."
Debbie is pictured receiving her award from Brian Kyle, Head of UK Foodservice.