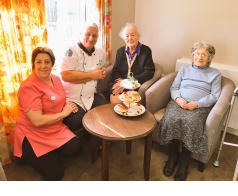 It was time for tea at Dukes Court Care Home, Northamptonshire, when dairy experts Pritchitts joined forces with Bidvest Foodservice to put on afternoon tea and show their support for Nutrition & Hydration Week (13th – 19th March 2017).
Owned and operated by award-wining national care provider, Avery Healthcare, Dukes Court's sixty residents were treated to a selection of cakes made by Pritchitts Development Chef, Wayne Child. During the afternoon, a staggering 120 cakes were enjoyed including millionaire's shortbread, scones with cream & jam, lemon tart, mini meringues, Victoria sponge and baked cherry cheesecake. All the cakes were made using Millac Gold Double – the high performance cream alternative with added vitamin D – allowing the residents to get more of the essential nutrient while marking the week.
Discussing the day, Simon Muschamp, Head of Marketing at Pritchitts said;
"We were delighted to take part in the global tea party and join Bidvest and Avery Healthcare in promoting Nutrition & Hydration Week. Pritchitts has been campaigning about fortification and the importance of nutrition in care for several years now, listening to the needs of the sector and developing products in response to these requirements. It was fantastic to see the residents enjoying the afternoon tea and our thanks go to Avery Healthcare for inviting us."
The award-winning Avery Healthcare operates residential, dementia and nursing care homes throughout the UK, with the purpose built Dukes Court opening in 2015. Home Manager, Karen Chambers commented;
"Dukes Court prides itself on offering the highest standard of residential and dementia care, with wellbeing at the heart of what we do. We believe it is important to cater for both body and soul, and the afternoon tea worked incredibly well to do this – not only bringing our residents together, but also allowing them to enjoy some amazing cakes. Our warmest thanks to Pritchitts and Bidvest Foodservice for their support."
The specially developed recipes were fortified using Millac Gold Double. With added vitamin D, it is the easy way for caterers to boost any dish that uses cream with the bone-strengthening nutrient – as well as additional calories, providing 328kcal per 100ml.
Development Chef, Wayne Child commented; "It was great to meet the very talented and passionate team at Dukes Court who do a fantastic job and ensure all residents are well fed. Through the afternoon tea, we hope it shows just how easily you can fortify even the simplest dish, and most importantly make sure the residents really enjoy mealtimes."
Packed with calories and with the added benefit of 15% of the recommended daily requirement of vitamin D per 100ml, Millac Gold Double's versatility means it can be used for cooking, pouring and whipping. It whips up to three times its volume providing superior yield – and is ideal for both sweet and savoury dishes. Developed by chefs for chefs, Millac Gold Double is also approved by the Craft Guild of Chefs. 
Millac Gold Double is sold in 12 x 1 litre packs and has a long, ambient shelf life offering care chefs an easy and hassle-free option to boost the diet of 'at risk' residents.