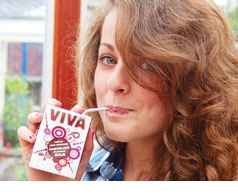 Best-selling Viva Flavoured Milk and the education sector's biggest and brightest promotion, Viva Daily Win, will be the two key focal points on Pritchitts stand (P61) at the forthcoming LACA conference.  The dairy experts will be demonstrating just how school caterers can reap the benefits of stocking Viva, and get kids drinking more milk in the process.
During the three days, visitors to stand P61 will be able to find out why Viva is the flavoured milk of choice for so many school caterers. Viva is free from artificial colours, sweeteners and preservatives, and complies with Government nutritional guidelines. For caterers, being able to provide a drink more exciting than water is essential to discourage pupils purchasing fizzy-drinks off-site. Caterers and parents can have peace of mind that Viva Flavoured Milk is offering children a popular and nutritious option. 
Pritchitts will be showing just how it can support school caterers in getting kids to drink more milk by way of its Viva Daily Win promotion, which has already begun in earnest for 2012.
Running until 14th December 2012, Viva Daily Win gives pupils, aged 12-18, the chance to win an iPod shuffle every school day until Christmas, while rewarding participating schools with free sports equipment vouchers.  All pupils have to do to enter is visit: www.vivamilk.co.uk and enter the code found on their Pritchitts Viva Milk carton.
Simon Muschamp, Head of Marketing at Pritchitts said: "LACA provides us with a fantastic platform to demonstrate why Viva Flavoured Milk is the natural choice for school menus. On the strength of such a fantastic product, our Viva Daily Win promotion has got bigger and better each year. In 2012 we want to encourage as many schools as possible to take part and join the wave of education establishments already feeling the benefits that Viva Daily Win can bring. Getting involved is easy, and the rewards are many."
Alongside Viva Milk, visitors to the stand will be able to see Pritchitts' entire range of innovative dairy solutions for education, developed with the caterer in mind to deliver consistent, reliable results.  
The LACA conference and AGM is being staged at the Hilton Birmingham Metropole from July 11th-13th 2012.