Date: 13th September 2013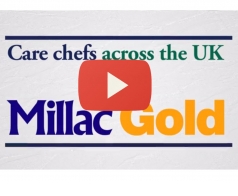 Pritchitts is launching a campaign to highlight the importance of a fortified diet for 'at risk' care home residents, while emphasising the role its product, Millac Gold, can play in providing chefs with a cost-effective tool to enhance the calorific value of their food. 
The Malnutrition Task Force – a coalition of health and social care experts – estimates that there are as many as 3 million people in the UK at risk of malnutrition, a third of which are over 65. Millac Gold is a high performance choice which offers care chefs an easy and hassle-free way to meet this challenge head-on and boost the BMI's of 'at risk' care home residents. More than just a cream, the Craft Guild of Chefs-approved product has a high calorie content meaning those with smaller appetites can still receive the calories they require. Highly versatile, Millac Gold can be used for cooking, pouring and whipping – it whips up to 3x its volume providing superior yield – and is ideal for both sweet and savoury dishes.
Simon Muschamp, Head of Marketing at Pritchitts, says: "With the National Association of Care Caterers calling the current situation a "nutrition time bomb", malnutrition is a serious and costly problem in care homes across the nation. Millac Gold is an easy to use, effective weapon in a chefs' armoury that can help them to fortify their menus and cater more effectively for undernourished residents or those with small appetites."
Millac Gold is proving an invaluable ingredient for John Brereton, Head Chef at Alexandra Court care home in Glasgow, who uses it across his menus from soups and quiches to mousses and cheesecakes. He also uses Millac Gold to fortify and modify meals (such as porridge, vegetables and potatoes) that need to be pureed to meet special dietary requirements yet still be tasty and attractively presented.
John says: "When it comes to fortified diets, there's nothing better. I use it all the time – we don't add water to puree the food, we enhance it with Millac Gold, it really helps to build up those most at risk and gives me the confidence that they are getting valuable calories."
Simon adds: "We know how hard care chefs work to cater for the specific needs of residents – Millac Gold is one kitchen partner that can help them deal with some of the many challenges of malnourishment and allow them to fortify their menus.  We also recognise that budgets are tight and so is time; so instead of having to order multiple varieties of cream, a care chef only needs one product. Use it anywhere or any time where you would like to increase the calorific content in your dishes, and rest assured that it will perform time and time again."
Millac Gold is sold in 12 x 1 litre packs or as a 10-litre bag in a box. Caterers can order their FREE sample and recipe book by clicking here.