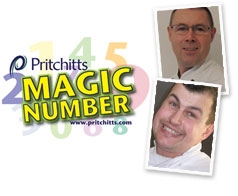 Russ Allen, owner of of the Marine Court Hotel in Ilfracombe, was one of hundreds of participants who visited the Magic Number website throughout 2012 to enter the unique codes found across all Pritchitts products.
Russ discovered his very own magic number on a pack of Millac Maid minipots – the market leading, longlife one cup whitener. Speaking about the win, Russ said: "What a nice surprise, it was such a simple process to enter, so it's great to be rewarded. The minipots are excellent; we get through thousands every year.
"I was a chef for 20 years and have been using Pritchitts products from since I can remember – without doubt they make life much easier when you're running a hospitality business."
One of the most innovative parts of the promotion lies in the fact that every time a caterer enters their code, they are asked to nominate their wholesaler and sales/telesales' contact, meaning if the caterer wins, they do too.
Russ chose to nominate Sandra Davies of Ilfracombe Foodservice who wins a state-of-the-art iPod Touch. 
Pritchitts gave away 12 Apple iPad's in 2012, rewarding caterers each and every month. December's winner was recently unveiled as Paul Playford, Head Chef at the Best Western Royal Beach Hotel, Southsea. Paul found his magic number on a pack of Pritchitts Creative Base; a consistent, convenient and stable dairy base that can be used across a variety of dishes. An avid user of Pritchitts dedicated recipe cards when catering for guests at the 120 bedroom hotel, Paul expressed his "Shock and delight" at scooping the iPad.
Paul's wholesale contact, Di Amey of 3663, Salisbury, also wins an iPod Touch.
Pritchitts Head of Marketing, Simon Muschamp, said: "Magic Number was established to reward our army of dedicated caterers for their loyalty to our products. Over the past year we've seen 12 worthy winners from a number of different sectors, each with a great story to tell, be they recent converts, or long time users. My congratulations go out to Russ; his win is the cherry on the cake for Magic Number - our sincere thanks to everyone that entered."   
PLEASE NOTE: Pritchitts Magic Number competition has now ended.
To find out about our current promotions and competitions please click here