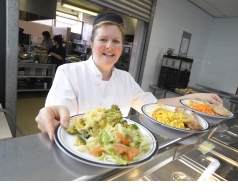 For Andrea Collins, the early morning starts pale into insignificance compared with her daily task of overseeing the breakfasts, break times and lunches of some 1500 hungry students.
It's an undertaking that the School Catering Manager and her dedicated, 16-strong team at Birmingham's CTC Kingshurst Academy relish and carry out with some aplomb, catering successfully throughout term time for the vibrant and varied demographic of diners. But, as with most large-scale foodservice operations, a smooth, efficient service does not come without its challenges.
Just as they are for most school caterers, budgets are a key consideration, as is ensuring the offering is kept as fresh and diverse as possible. "I'd have to say that our biggest challenge is trying to offer innovative menu ideas" says Andrea, "things that replicate what's out there on the high street, but at much cheaper prices. Our main motivation is to keep offering new ideas".
Andrea has found inspiration and a helping hand in Millac Gold, Pritchitts premium dairy cream alternative, which is proving its worth in her busy school kitchen.  Millac Gold's sheer versatility – it can be used for cooking, whipping or pouring – allows her to create a range of innovative and popular dishes, both sweet and savoury, and helps to save time, cut ingredient costs and keep menus fresh.
"I've been using Millac Gold for the past 12 months and am really impressed with the results" says Andrea, "it tastes just as good as fresh dairy cream and is really adaptable – one of the real USP's for me is that once it's whipped, you can freeze it and when you defrost it it's still stable, it hasn't split, and you can use it straight in the piping bag. We use it in so many of our dishes from soups and sauces to favourites like homemade potato dauphinoise, tiramisu and pasta bakes, for me it's much more versatile than using fresh dairy cream". 
Another unique factor that sets Millac Gold apart from fresh dairy cream is the fact that it can be whipped up to three times its own volume, and won't split, even when added to acidic ingredients, giving caterers peace of mind over costly wastage and allowing them to do more with less.
"We whip Millac Gold for all of our desserts and I find that it's a really cost effective way of adding cream to a dish," says Andrea. "If you put it in a whipping machine and get called away, when you go back it's still whipping away, it hasn't split. Because of this, it also allows you to have the ovens up at a higher temperature which makes the preparation process even quicker, which is great when you're catering on a larger scale".
With so many mouths to feed, Andrea asserts that consistency is another crucial factor in a successful service, revealing that Millac Gold is able to play a big part in ensuring the constant quality of her culinary creations. Also, because it is supplied ambient with a shelf life of 9 months, it eliminates the hassle of chilled storage at a stroke. "Consistency-wise, Millac Gold is purely and simply the same product every time, it whips up the same, and it's the same high standard in every pour, so it really does help to uphold the consistency of our food. Plus because it's an ambient product, it's always on the shelf, once opened you just treat it as fresh, it's so easy and so stable, there's no waste and no hassle".
As the last of the children disperse, Andrea stops to survey the rare quiet of the school canteen, taking a moment to offer advice for fellow school caterers: "Make sure you keep your menus interesting and try to be innovative wherever you can. The versatility of Millac Gold has really helped me to achieve this and keep costs down in the process. I can't recommend it highly enough".
View Andrea's recipes by clicking below:
Turkey Escalope with Dauphinoise Potatoes