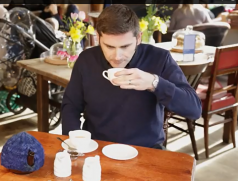 The Millac Maid Tea Challenge took place at the renowned Tea House Theatre in Vauxhall – a veritable mecca for lovers of fine teas – putting the great British public to the test to see if they could tell the difference between tea with fresh milk and Pritchitts leading peel-and-pour pots.
The producer of the premium mini pots – Pritchitts, the foodservice division of Lakeland Dairies – also brought a film crew along in tow to capture the reactions of the Tea House Theatre clientele as they sipped from identical looking cups to try to discern which tea was which.
All of the participants – hardened tea drinkers, each with their own individual brewing habits – reported that they could not tell the difference between tea with fresh semi skimmed milk and tea made with half-fat Millac Maid.
Simon Muschamp, Head of Marketing at Pritchitts, said: "The Millac Maid Challenge provides compelling end-user evidence that half-fat Millac Maid tastes the same as fresh semi skimmed milk in a cup of tea. The Tea House Theatre was the perfect place to stage it as tea is literally all they serve – their patrons certainly know their stuff too, which makes the result all the more satisfying."
The challenge follows in the wake of a consumer survey* by leading independent scientific consultancy, Leatherhead Food Research, which proved that there was no significant differences between tea with fresh semi-skimmed milk and tea with half-fat Millac Maid on factors such as 'full bodied flavour' and a 'refreshing' and 'pleasant' aftertaste. Respondents to the test also described a 'good appearance', 'smooth taste' and 'refreshing' nature of the tea with Millac Maid, along with its 'good aroma' and 'appealing colour'.
Simon adds: "The positive research from such a respected organisation is a tremendously strong indicator, but direct consumer testimonials really bring the research to life! We urge those outlets that require a milk product that is convenient, hygienic, long-life with absolutely no quality sacrifice, to get their customers to take the Millac Maid Challenge today."
Pritchitts peel-and-pour, one-cup half-fat Millac Maid Mini Pots are easy to open, easy to store – they have a long shelf life at ambient temperatures – and minimise wastage through perfect portion control. By eliminating the risk of contamination, the sealed pots provide a practical and hygienic way of serving hot drinks front-of-house. Millac Maid Mini Pots come in both full-fat and half-fat versions and are sold in cases of 120x12ml or 240x12ml pots. The full-fat option is also available in cases of 480x10ml pots