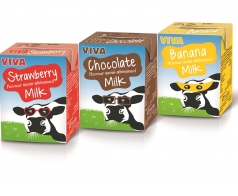 The packaging for Pritchitts best-selling Viva Flavoured Milk has been given a modern new look for 2014, just in time for the triumphant return of the education sector's biggest annual promotion – Viva Daily Win.
The striking new packaging – a complete redesign and a nod to the provenance of the milk itself – features green fields and a cow in an array of off-the-wall glasses to signify different flavours. The new design should further enhance Viva's appeal with its key target market of 12-16 year olds.
Simon Muschamp, Head of Marketing at Pritchitts, said: "As one of the education sector's most popular soft drinks we felt it was high time for a new look. We're confident that the new design will act as a timely reminder of the goodness that milk can provide, while making it more visually appealing to kids and an even easier sell for school caterers."
News of the brand new look comes as Pritchitts is set to launch Viva Daily Win 2014. The top-of-the-class campaign – now in its fifth year – will continue to reward pupils who drink Viva Flavoured Milk with the chance of winning an iPod Shuffle every single school day until 19th December 2014.
The company is urging schools to boost their chances of a big win by stocking up on new look Viva Flavoured Milk and requesting their high impact FREE point-of-sale kits, including brand new eye-catching A2 posters and wobblers, to get school cafeterias buzzing ahead of the 1st May kick-off.
Entering Viva Daily Win couldn't be easier; pupils simply need to enter the code found on their Viva Flavoured Milk carton at vivamilk.co.uk to be in the running for the daily iPod Shuffle giveaway.
As an added bonus, each month, the school that has encouraged the most pupils to enter the online draw will be rewarded with £200 worth of equipment vouchers.
Simon adds, "Viva Daily Win is tailored towards helping secondary schools encourage their pupils to drink more milk, and every year the promotion has got bigger and bigger.  We're rallying caterers to get behind us again, request their new look, free point of sale materials and help make 2014 the most successful year yet."
Schools can download A3 posters at vivamilk.co.uk and request A2 posters and fridge wobblers for their cafeteria to promote the draw and encourage a high level of participation among pupils.
Viva Milk – the leading flavoured milk brand in the education sector – is the easy way to get secondary school students to drink more milk; it complies with school guidelines, contains no artificial colours, sweeteners or preservatives and comes in three flavours, strawberry, banana and chocolate. Viva Flavoured Milk also contains extra vitamin D which is great for bones and skin and helps children absorb calcium.