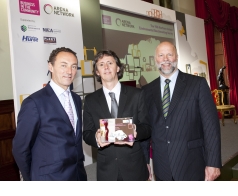 Pritchitts has been listed as one of the top scoring companies in this year's NI Environmental Benchmarking Survey conducted by Business in the Community's ARENA Network, achieving Platinum quintile status.
The Survey, which is supported by the Northern Ireland Environment Agency and Fleet Financial, annually assesses top businesses in Northern Ireland for environmental management, performance and assurance.
Almost 300 organisations from 15 different sectors were invited to take part this year, including the top 200 companies and leading public sector organisations and Pritchitts was among a handful of companies to be   awarded the top accolade of Platinum Status.
Environment Minister Mark H Durkan commended all participants for their leadership and achievement saying: "I applaud all the participants of this year's Survey; they are ambassadors for good environmental stewardship who have, and will hopefully continue to, set the standard for responsible business practice.Taking responsibility for your environmental impact is not just the right thing to do, it is essential for building a strong and sustainable future. Working together, the public and private sector can make a real difference."
Colin Shiels QSHE Manger is pictured accepting the award on behalf of Pritchitts.