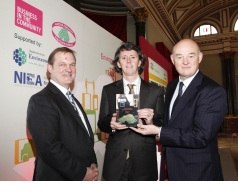 Pritchitts has received a top 'green' accolade from Business in the Community's ARENA Network by achieving Quintile One status at this year's 14th Northern Ireland Environmental Benchmarking Survey Results Launch.
The Survey, carried out by ARENA Network and supported by the Northern Ireland Environment Agency, annually assesses top businesses in Northern Ireland for environmental management, performance and assurance.
Environment Minister Alex Attwood commended all participants for their leadership and achievement saying:
"This year the ARENA Network Survey has produced a high average score with the top performing sectors being those that have the greatest potential to impact the environment. It shows that participants are taking appropriate measures in order to reduce their environmental impacts and improve their efficiency.
"The ARENA Network Survey is an important measure for businesses and public sector organisations as they develop a stronger economy. ARENA Network continues every year in its efforts to encourage companies to take part in benchmarking and realise true business benefits. I commend all of the participants for their positive contribution to good environmental stewardship and their commitment to reducing environmental impacts and managing resources efficiently."
Stepping down from Chair of ARENA Network after five years, Phoenix Chief Peter Dixon, added: "As Chair of ARENA Network, I'm delighted to have witnessed the continued commitment and leadership from Northern Ireland's leading responsible businesses to the environmental agenda.
"For those companies who are already taking the environment seriously, I would encourage them to keep up their good work. For those not yet involved, I would urge them to get in touch with the ARENA Network team and discover the benefits for themselves.
The top results (in order of scoring) were achieved by: Belfast Harbour, Seagate Technology (Ireland), Bombardier Aerospace, Clarehill Plastics Ltd, John Graham (Dromore) Ltd, Larne Borough Council, Banbridge District Council, Farrans (Construction) Ltd, IKEA Belfast, Royal Mail, BT, Northern Ireland Assembly and Translink.
To find out who else participated and how they scored, visit www.arena.org.uk.
David Gavaghan, Chief Executive, Titanic Quarter was revealed as the new Chair of the ARENA Network at the event and Fleet Financial was announced as the Survey's new private sector sponsor for 2013.