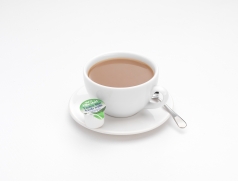 With summer approaching, Pritchitts is recommending that caterers shun leaving open jugs of fresh milk at breakfast bars and self-serve outlets in the fear that the warmer conditions may spur a proliferation of food-poisoning bacteria in protein-rich foods such as milk.
With the Food Standards Agency's (FSA) Food Safety Week approaching (10-16th June 2013) Pritchitts is advising that operations think again, as they and their customers could be vulnerable to contamination from airborne microbes as well as the germs that lurk in many commercial kitchens.
The risk of cross-contamination was highlighted in a survey* of 120 restaurant kitchens in the north-east of England by the Health Protection Agency. The findings revealed that 56% of the cleaning cloths tested contained unacceptable levels of bacteria that could easily spread to workers' hands, worktops and equipment – such as milk jugs.
Pritchitts is offering a practical and hygienic solution for all catering operations in the form of its Millac Maid Mini Pots. The sealed, long life, 'peel and pour' pots eliminate all risks of cross contamination as they only need to be opened at the point of service. Operators can also be confident that they are not sacrificing flavour if they switch to Millac Maid Mini Pots. A consumer study** commissioned by Pritchitts and carried out by Leatherhead Food Research has confirmed that tea with Half Fat Millac Maid tastes just like tea with fresh, semi-skimmed milk.
Simon Muschamp, Head of Marketing at Pritchitts, said: "The contamination of open milk jugs becomes an increased hazard during the warmer summer months and any such food poisoning outbreaks could damage the reputation of your business. We are urging caterers to not take the risk and offering them a foolproof solution – hygienic, cost-effective and supplied in portion-controlled, one-cup formats that eliminate wastage at a stroke – it has been proven that consumers can't taste the difference between Millac Maid and fresh milk. With the approach of Food Safety Week, there has never been a better time to look again at your setup."
Millac Maid Mini Pots come in both full-fat and half-fat versions and are sold in cases of 120x12ml or 240x12ml pots. The full-fat option is also available in cases of 480x10ml pots.