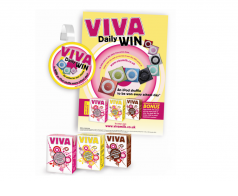 Now limbering up for its fourth year, Pritchitts Viva Daily Win – the education sector's biggest annual promotion – is set to make a spectacular return this May offering even more opportunities for schools and pupils to get involved.
Pritchitts is urging schools to boost their chances of a big win by stocking up on Viva Flavoured Milk and requesting their high impact FREE point-of-sale kits, including eye-catching A2 posters and wobblers, to get classrooms buzzing ahead of the 1st May kick-off.
The top-of-the-class campaign will continue to reward pupils who drink Viva Flavoured Milk with the chance of winning an iPod Shuffle every single school day until 20th December 2013, and for the first time this year schools with the most entries will also go into a monthly prize draw to win £200-worth of sports equipment vouchers.
Simon Muschamp, Head of Marketing at Pritchitts, said: "Viva Daily Win has been hugely successful in incentivising children to reap the nutritional and health benefits of drinking milk from an early age. We are delighted to be bringing back the education sector's most popular promotion for the fourth time, and I urge caterers to ensure their school is involved!"
Pupils aged 12-18 simply need to enter the code found on their Viva Flavoured Milk carton at www.vivamilk.co.uk to be in the running for the daily iPod Shuffle giveaway and, each month, the school that has encouraged the most pupils to enter the online draw will be rewarded with sports equipment vouchers.
Simon adds, "Our promotion is tailored towards helping secondary schools encourage their pupils to drink more milk, we felt it was only right that schools that get actively involved and really get behind Viva Daily Win can win big too, whilst helping improve the wellbeing and health of their pupils."
Schools can download A3 posters at www.vivamilk.co.uk and request A2 posters and fridge wobblers for their cafeteria to promote the draw and encourage a high level of participation among pupils.
School caterer Andrea Collins from Birmingham's CTC Kingshurst Academy has been supporting Viva Daily Win since its inception. Andrea uses the promotion, its rewards and free posters to drive uptake during breakfast, break time and lunch services for 1500 pupils daily. She said: "Whenever we sell Viva Milk we always remind the children 'don't forget to fill in your code' and make sure the posters are prominent as a reminder, so they know what to do.
"The students absolutely love Viva Milk, and it's a much healthier alternative to sugary soft drinks. Each year (during Viva Daily Win, May to December) we definitely see a sales uplift, which is great. I see it as a win-win situation, I'm confident that what we're serving is nutritionally good, full of the vitamins and minerals that the students require, plus it's a free chance to win an iPod Shuffle!"
Viva Milk – the leading flavoured milk brand in the education sector* – is the easy way to get secondary school students to drink more milk; it complies with school guidelines, contains no artificial colours, sweeteners or preservatives and comes in three flavours, strawberry, banana and chocolate. Viva Flavoured Milk also now contains extra vitamin D which is great for bones and skin and helps children absorb calcium.