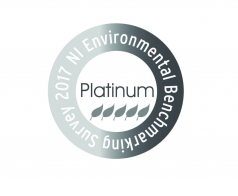 Pritchitts has achieved Platinum status – the highest scoring level – in this year's Northern Ireland Environmental Benchmarking Survey.
The survey is the leading review of private sector environmental management in Northern Ireland. To achieve the highest level Platinum award, Pritchitts demonstrated not only excellent environmental governance and disclosure but also strong continual performance improvement in the areas of energy, water, waste, transport and biodiversity.
Ed Wright, Environmental and Sustainability Manager said:
'I am delighted Pritchitts has won this Platinum award, which clearly demonstrates our commitment to sustainability and reducing our impact on the environment. I'd particularly like to thank all staff involved for their continued effort to improve our
environmental performance which has enabled us surpass the
Gold award we received in last year's survey.'
Pritchitts is currently working on a number of environmental initiatives which include our ongoing focus on resource efficiency in processing, waste management and the use of renewable biogas to help power our manufacturing process.