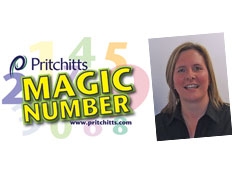 Andrea Collins of CTC Kingshurst Academy found her magic number on a pack of Millac Gold, Pritchitts cream alternative. She entered the unique product code online and was rewarded with the latest Apple gadget.
A keen advocate of Pritchitts products, Andrea also uses Roselle Dessert Whip and Viva flavoured milk, catering for over 900 students every day.    
Commenting on her win Andrea said: "It feels fantastic, and very exciting to win an iPad. With so many students to feed, products such as Millac Gold really help out in the kitchen. Millac Gold is easy to use, consistent and an authentic alternative to using fresh cream. I even used it to make a tiramisu as a Friday treat for our students on the last day of National School Meals Week, topping it off with Roselle Dessert Whip, of course."
Pritchitts Head of Marketing, Simon Muschamp, said: "Many congratulations to Andrea on her deserved win. We all know that catering for the tastes of school children can be challenging at times, so it's great to see that our products are giving her a helping hand in the kitchen. The Magic Number promotion is open to any caterer using our products and has been set up to reward them for their loyalty to the Pritchitts brand. There are still two more iPads to be given away in 2012, so I urge caterers to follow Andrea's example and check their unique on-pack codes now."
One of the most innovative parts of Pritchitts' Magic Number promotion lies in the fact that every time a caterer enters their code, they are asked to nominate their wholesaler and sales/telesales' contact, meaning if the caterer wins, they do too.
Andrea chose to nominate Michelle Cowie of 3663 who wins a state-of-the-art iPod Touch. 
Pritchitts Magic Number promotion runs until the end of the year where a top-of-the-range 13-inch 256GB MacBook Air will be given away as a grand prize. Caterers need to enter their unique pack codes found on all Pritchitts products to see if they are a winner.
PLEASE NOTE: Pritchitts Magic Number competition has now ended.