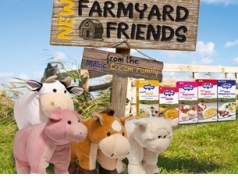 Due to popular demand Pritchitts' snip and save scheme – Millac Farmyard Friends – has been extended until the end of the year!
The promotion encompasses the entire Millac Cream Family, making it even easier for caterers to claim their Farmyard Friend Pillow. Caterers simply need to snip and save 24 bottom coded pack corners from Millac Gold Double, Millac Gold Single, Millac Roselle Supreme, Millac Dairy Single Cream or Millac Dairy Whipping Cream and send them – along with a completed claim form – to the FREEPOST address available at www.pritchitts.com/farmyard-friends, before 31st December 2015.
The Millac Range is more than just cream and offers the perfect dairy solution whatever your culinary requirements whether it's  whipping, cooking or pouring.  As well as offering great value for money, the range is easy to work with and stays stable when the pressure is on. The Millac Cream Family also has a long ambient shelf life, helping to save valuable refrigeration space and reduce waste – key challenges faced by commercial kitchens.
Click here to download your claim form.