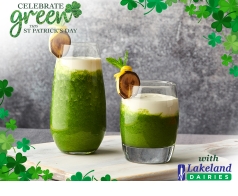 Lakeland Dairies understand that themed menus and daily specials are a great way for operators to keep menus fresh and interesting. That's why we have created deliciously different dishes inspired by our provenance; the lush green grass, beautiful landscapes and traditions of Ireland.
The recipe for charcoal savoury scones with cream filling is inspired by the beautiful Irish landscape that is the Giant's Causeway – a UNESCO World Heritage site in Northern Ireland. Created by Lakeland's team of chefs and made using their delicious products such as creamy Millac Gold Double and Lakeland Dairies Butter, each recipe comes with a little inspiration so operators can impress their customers with an extra special St Patrick's Day theme.
As part of Lakeland Dairies' celebrations, chefs can enter a prize draw to win a fabulous culinary trip to Northern Ireland when downloading our Celebrate Green recipes online! Entries close on 30th April.
From the lush green pastures of family farms, we create products trusted by chefs. To find out more and enter our prize draw visit www.celebrategreen.co.uk