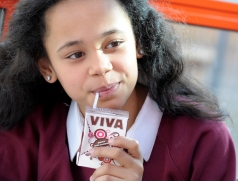 A Suffolk school is the second beneficiary in Pritchitts Viva Daily Win Monthly bonus.
Copleston High School in Ipswich has scooped £200 worth of school equipment vouchers by having the most entries in June for Pritchitts Viva Daily Win, the education sector's biggest promotion.
The money is to be used to fund communal picnic benches to populate a brand new outside patio area, built using money raised by the children themselves. School Caterer Wendy Wheeler expressed her delight at the win: "We're really happy to have achieved the Viva Daily Win monthly bonus. The outside area gives the children more space so it's great that the vouchers can be put towards seating for them to really enjoy lunchtimes."
Now in its fourth year Viva Daily Win offers pupils aged 12-18 the chance to win an iPod shuffle every school day until December 20th 2013, simply by going to www.vivamilk.co.uk and entering the code found on their carton of Pritchitts Viva Flavoured Milk. New for 2013, the monthly £200 bonus has been introduced to reward schools with the most entries and is up for grabs every month throughout term time. 
Wendy says that although the school goes through "lots of cases per week", she has seen a rise in uptake of Viva Milk and attributes it, in part, to Pritchitts campaign Viva Daily Win.
"We make sure we have the posters up around the school and actively tell the children to have a look – they're bright and inviting and really help to drive sales. Previous promotions from other suppliers haven't gone as well because of a lack of support, so it's great that they seem to connect with it."
Schools can boost their chances of scooping the monthly bonus by stocking up on Viva Flavoured Milk and requesting their high impact FREE promotional material, including eye-catching posters and fridge wobblers. Schools can download A3 posters at www.vivamilk.co.uk and request A2 posters and the wobblers for their cafeteria to promote the draw and encourage a high level of participation among pupils.
Simon Muschamp, Head of Marketing at Pritchitts, said: "Many congratulations to Copleston and to Wendy. It's fantastic news that the monthly bonus is going to something so worthwhile and great that she and the team have got so behind the promotion, utilising the promotional material provided for Viva Daily Win to its fullest. The monthly bonus will continue until December 2013 so we urge schools to take full advantage of the time, download our free promotional materials and reap the benefits."
Viva Milk – the leading flavoured milk brand in the education sector – is the easy way to get secondary school students to drink more milk; it complies with school guidelines, contains no artificial colours, sweeteners or preservatives and comes in three flavours, strawberry, banana and chocolate.