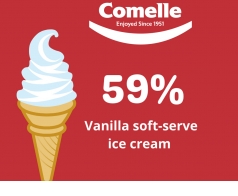 Vanilla soft serve ice cream voted nations favourite summer treat finds nationwide poll for Comelle
With the roadmap in place to reopen the hospitality sector, and warmer months on the horizon, ice cream experts Comelle surveyed UK consumers to discover the nations favourite summer treat.
Find out more about Comelle Ice Cream Mix HERE
Emerging triumphantly as Britain's #No 1 choice of summer treat is vanilla soft serve ice cream.  
The Comelle survey found overall ice cream was the nations favourite summer treat with a whopping 90% of consumers voting for it. Within ice cream, soft serve ice cream (like the type you can buy from an ice cream van in a cone), was the #number 1 choice (59%), followed by scoop ice cream (31%). These were far ahead of other treats in popularity such as chocolate which was the third favourite (6%) or crisps (2%) in fourth place.
Vanilla topped the list for favourite flavour of ice cream (25%), followed by chocolate (23%) and then mint choc chip (21%).
Separately, consumers were asked what their least favourite flavour was. A quarter of people voted Pistachio the most unpopular ice cream flavour, followed by banana (19%).  
The survey found bubble gum flavoured ice cream was considered the most unusual flavour of ice cream which had been tasted, along with cotton candy, banana, rose and prune flavours. Stracciatella, a variety of Italian gelato consisting of milk-based ice cream filled with shavings of chocolate was also cited as unusual.
The classic '99' chocolate flake was voted the nations favourite topping to go with an ice cream (33%), followed by caramel sauce (16%) and then chocolate sauce (12%).
Of all frozen treats available, consumers voted soft serve ice cream their favourite (42%), with ice lolly's in second (19%), and ice cream desserts such as an arctic roll taking third place (15%)
Nearly half of those surveyed (46%) said in a typical year they bought a soft serve ice cream more than five times a year, whilst six percent of consumers said they would only buy once per year or 'occasionally'.
The survey also found most consumers associated soft serve ice cream with a British summer holiday at the seaside (48%) and childhood memories (17%).

Jean Cattanach, marketing controller Lakeland Dairies comments.
"With the long-awaited opening up of cafes and restaurants we wanted to explore how Brits love to treat themselves in the summer months, and what they are most looking forward to buying this year. We were delighted to see vanilla soft serve ice cream top the list of summer treats. It's Comelle Ice Cream Mix's 70th anniversary this year and as we celebrate 7 decades of creating award-winning ice cream it's wonderful to see how nostalgic Brits feel about one of life's simple pleasures such as enjoying an ice cream on the beach."
Consumers top five favourite ice cream flavours
1. Vanilla
2. Chocolate
3. Mint Choc Chip
4. Strawberry
5. Coffee
Click here to view the full results