Date: 13th September 2017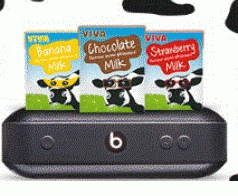 With an opportunity to win a speaker every school week until the 15th December 2017, Pritchitts' loudest competition to date is making it cool for school pupils to drink milk. To be in with a chance to win, all pupils have to do is enter their Viva carton codes at www.vivamilk.co.uk.
Simon Muschamp, Head of Marketing at Pritchitts, comments;
"Our Viva Flavoured Milk promotion has proved highly effective at supporting schools in ensuring pupils get the nutrients they need. Milk is a great source of protein and calcium, offering more nutrients than other soft drinks. It also contains added vitamin D which is great for bones and teeth as it helps with the absorption of calcium."
Open to pupils aged 12-18 years, schools are being encouraged to stock up on Viva Flavoured Milk and request their POS kit – containing A2 posters and wobblers – from www.vivamilk.co.uk, where downloadable colourful A3 and A4 posters are also available.
Simon adds: "The more milk they drink the more chances they have of winning – making the promotion a win-win for both schools and pupils. Since May, 114 schools have signed up to boost their soft drink sales and we're excited to see this grow with the start of a new academic year."
 
Available in Strawberry, Banana and Chocolate, Viva Flavoured Milk is not only low in fat with added Vitamin D, but it can also help schools meet School Food Standards. Viva can help schools target all-day dining, while working as a healthy and filling snack, part of a meal or to help pupils rehydrate after sports.  The flavoured milk is best served chilled but can be stored ambient until it is needed, which means caterers have the added benefit of hassle-free storage.