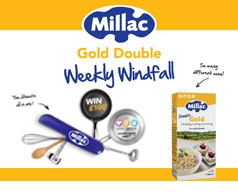 Lakeland Dairies has launched a new scheme further rewarding caterers who have discovered the versatility of its leading dairy cream alternative – Millac Gold Double.
Every week from now until the 27th May 2018, one lucky chef or caterer will win a £100 Love2shop voucher, simply by entering the code on the top of their Millac Gold Double pack at www.millacgolddouble.co.uk. The more packs that are entered the more chances there are of winning.
Used for cooking, pouring and whipping, the £100 reward scheme is just one of many benefits that comes from using Millac Gold Double, which is endorsed by the Craft Guild of Chefs.
Simon Muschamp, Head of Marketing, Lakeland Dairies explains:
"We're incredibly proud of Millac Gold Double. It's the ultimate all in one, high performance cream alternative that has been developed to make working with dairy that little bit easier. From whipping up to three times its volume to never splitting, we have built up a legion of loyal fans over the years across the foodservice market and Weekly Windfall is our way of saying thank you."
Suitable for both sweet and savoury dishes, Millac Gold Double not only has multiple uses, but its reliability and long ambient shelf life makes it the sustainable choice for kitchens looking to reduce wastage.
Millac Gold Double is sold in 12 x 1 litre packs.
Lakeland Dairies is one of Ireland's largest farmer-owned dairy co-operatives. Their cows graze on lush, green pastures producing high quality milk, which is collected from over 2,400 family farms on a daily basis. Using unrivalled expertise and state of the art machinery, they process over 800 million litres of milk into their range of value added dairy products, including Millac Gold Double.
For more information and the chance to win visit www.millacgolddouble.co.uk