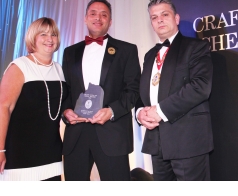 Winners of the 2014 Craft Guild of Chefs Awards were announced at a special gala dinner at London's Park Plaza Westminster Bridge Hotel on Wednesday, June 4, attended by more than 650 guests.
A total of 17 awards were presented on the night, including the Craft Guild's Development Chef Award, sponsored by Pritchitts. This accolade was presented to Sanjay Sighat, Head Development Chef of The Authentic Food Company, Manchester. Sanjay has worked for The Authentic Food Company for over 12 years and says that a seamless innovation process is achieved by maintaining a close working relationship with both suppliers and customers.
Sanjay is pictured with Janis Sargent, National Business Development Controller, Pritchitts and Christopher Basten, Chairman of Craft Guild of Chefs.
Congratulations Sanjay!