Cream Alternative:
Millac Gold Double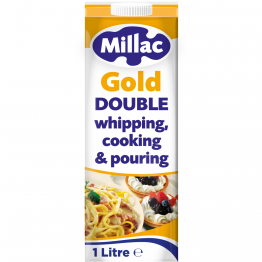 Makes life in busy kitchens easier. A deliciously versatile cream alternative.
Designed for professionals, consistent and reliable time after time
An expert blend of buttermilk, vegetable oil and real dairy cream
Ideal for whipping, cooking and pouring, meets all chef's needs
Made with traceable milk from our family farms
With added vitamin D; the sunshine vitamin
Whipping:
Whips up to 3x its volume; a great yield 
Can be rewhipped; helps manage waste
Tastes delicious when whipped; for great tasting recipes
Holds its shape when piped; looks good for longer than fresh dairy cream
Cooking:
Doesn't split with acidic ingredients or at high temperatures; great reliability
Ideal for sweet and savoury sauces and dishes; very versatile
Can be frozen in dishes and held in bain-marie; extremely flexible
​
Pouring:
Delicious creamy taste, great for pouring
Easy to Store:
Convenient screw lid for easy resealing
Recyclable packaging
Ambient product
Long 9 month shelf life
Once opened, refrigerate and use within 3 days
Formats
12 x 1 litre

Perfect For...
All Channels
Whipping & Piping | Cooking & Baking | Pouring | Gas Whipper |
Suitable for: Vegetarians, Coeliac diets, Halal diets
Ideal for Health and Care Settings: Added Vitamin D aids the body's absorption of calcium, 100g of Millac Gold Double gives 15% of Reference Intake of Vitamin D. An easy way to support fortification of dishes.
Available from most leading foodservice wholesalers. For more information contact Care@LakelandDairies.com
Have you tried reliable Millac Gold Single, perfect for cooking sauces and curries!
Craft Guild of Chefs approved product