Cream Alternative:
Millac Gold Single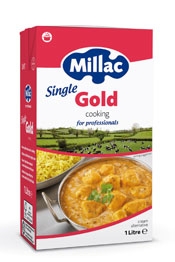 Simplifies cooking in busy kitchens. A tasty cream alternative especially for cooking.
Designed for professionals
Expert blend of buttermilk, sunflower oil and real dairy cream
Ideal for cooking in sweet and savoury sauces and dishes
Made with traceable milk from our family farms
15% fat: lower than standard 18% fat single cream
Easy to use:
Thickens quickly; ideal for make to order service
No need to reduce; improved yield compared to fresh dairy cream
Blends well to prevent fat separation; brilliant for curries. 
Doesn't split with acidic ingredients; great reliability
Always looks fresh from the hob; ideal for takeaways
Doesn't split at high temperatures or when reheated; helps manage waste
Can be frozen in dishes and held in bain-marie; extremely flexible
Easy to Store:
Recyclable packaging
Ambient product
Long 6 month shelf life
Once opened, refrigerate and use within 3 days
Formats
12 x 1 ltr

Perfect For...
All Channels | Quick Service | Takeaways | Pop-Ups |
Cooking | Marinades | Desserts
Suitable for: Vegetarians, Coeliac diets, Halal diets, Lactose Intolerants
Have you seen the Lakeland Dairies Curry Week Recipe Guide? It's packed full of tasty creamy curry recipes, lovingly created by our expert Chef Anubhav. We've taken inspiration from all over India to create these delicious curry recipes, using Millac Gold Single.
Ideal for curries! Try our Chicken Tikka Masala recipe
Available from most leading foodservice wholesalers. For more information contact Care@LakelandDairies.com
Craft Guild of Chefs approved product
Millac Gold Single is great for all your cooking needs except for whipping. Have you tried deliciously versatile Millac Gold Double, perfect for whipping, cooking and pouring!