Millac:
Millac Half-Fat Skimmed Milk Powder with Non-Milk Fat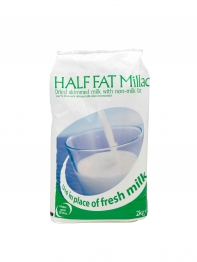 Whole milk taste with half the fat! Practical and versatile; perfect for health and care settings!
Great tasting milk powder alternative to whole milk:
Skimmed milk expertly blended with vegetable fat
Gently dried for maximum convenience
Made with traceable milk from our family farms
Quality milk collected within a two hour radius of our factories
Source of vitamin D once reconstituted
Easy to use:
Dissolves easily
Excellent versatility, perfect for sweet and savoury dishes
Great for baking and cooking
Once reconstituted, use in place of liquid milk in hot drinks and more
Easy to store:
Convenient 2kg bag
Ambient product
Long 24 month shelf life
Once opened use within 4 weeks
Formats
6 x 2 kg bags

Perfect For...
Health | Care | Education |
Baking | Cooking | Hot Drinks Once Reconstituted
Suitable for: Vegetarians, Coeliac diets, Halal diets
Available from most leading foodservice wholesalers. For more information contact Care@LakelandDairies.com
Have you tried our New Lakeland Dairies 100% Dairy Skimmed Milk Powder, ideal for fortifying recipes for special diets