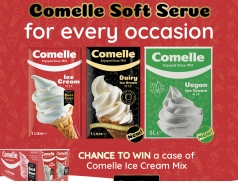 Chance to Win with Comelle for Every Occasion
Enjoyed since 1951, Comelle soft serve ice cream mix is made with high-quality milk from Lakeland Dairies 3200 family farms, and the Comelle family is growing!
Now delicious Comelle ice cream mix, is joined by our brand new Comelle Dairy Ice Cream Mix and Comelle Vegan Ice Cream Mix.
To celebrate we're giving away a case of Comelle ice cream mix.
Claim Free Comelle Point of Sale
To support customers who wish to promote delicious Comelle Soft Serve Ice Cream, we have developed several eye-catching and attractive Point of Sale items.
A Shaped Pavement Sign – one free sign per outlet with proof of purchase
Window stickers – two free stickers per outlet
Be inspired
Watch our Comelle case studies for inspiration on using Comelle to help elevate
desserts and improve profits. Watch here