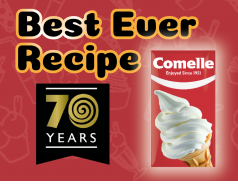 Dairy experts Lakeland Dairies a 100% farmer owned dairy co-operative, has launched its Best Ever Recipe for their award-winning Comelle Ice Cream Mix.
Available in vanilla, the soft serve ice cream mix is a high-quality creamy liquid, with the ideal balance of sweetness and tasty vanilla notes.
Bringing happiness for 70 years, consumers in independent research* agree the great flavour and delicious creamy taste of the new mix, is Comelle's Best Ever Recipe.
Three years of expert development has gone into crafting the reformulated mix which delivers a new improved flavour, and a lower sugar content. It also offers excellent operating performance including great yield, definition on a cone, and the perfect melting point. The best ever recipe is launched to coincide with the re-opening of the hospitality sector in the UK.
Watch the new pack reveal for Comelle Thick Shake Mix here

---
Paul Chmielewski, Head of Marketing and International at Lakeland Dairies comments:
''We are delighted to launch our best ever recipe just in time to support UK hospitality as they start to ease gently out of lockdown. Demand for outdoor dining is set to rocket and our Comelle can support operators to deliver a fantastic consumer experience with a great tasting ice cream or thick shake."

With a proud heritage in dairy farming, Lakeland Dairies' Comelle ice cream mix, is made with wholesome, skimmed milk from the lush green pastures of the company's 3,200 family farms.
The best ever recipe Comelle ice cream mix and Thick Shake mix in Vanilla can be purchased now from selected wholesalers.
Find our more about Comelle Point of Sale here