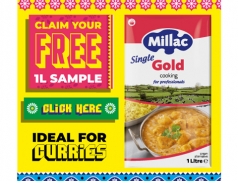 LACA has revealed curry is the most popular school meal*. To celebrate, Lakeland Dairies is supporting LACA's 'themed menu' campaign by providing a free, easy to use Curry Recipe Guide for National Curry Week, alongside the opportunity to claim a free 1 litre sample of Millac Gold Single, which is used to make the recipes.
The Curry Recipe Guide has been specifically designed by Lakeland Dairies so that school caterers can create a delicious, themed menu for National Curry Week, which takes place between the 7th and 12th of October.
Packed with tasty, creamy curries using Lakeland Dairies' Millac Gold Single, each recipe showcased has been lovingly created by the Lakeland Dairies' expert culinary team led by Chef Anubhav. Anubhav has taken inspiration from all over India to fill the guide with showstopping and school-friendly recipes.
The guide features five recipes, which includes a coconut curry with carrots and peas, and a mango chicken curry, inspired by the rains and the mangos which come with it from the monsoons in northern India. There is also a chicken potato and spinach curry with a lovely thick creamy base, and a shredded butter chicken curry, which is probably the most well-known curry around the world. The butter chicken curry recipe has a rich, creamy tomato-base with succulent pieces of shredded chicken which make it easier to eat with rice, naan or convenient as a roll filling. And to finish, there is a red kidney bean curry from the Punjab region of North India, where red kidney beans, or 'Rajma' as they are called there, are a staple ingredient in North Indian homes.
All the recipes use Lakeland Dairies Millac Gold Single which is a high performing cream alternative with enhanced stability, excellent reliability and as it doesn't split it is ideal for curries and sauces. Designed for professionals to simplify cooking in busy kitchens, Millac Gold Single is a cream alternative made with real dairy cream from Lakeland Dairies' family farms.
Jean Cattanach, Marketing Controller at Lakeland Dairies, comments:
''We're excited to share our Curry Recipe Guide; it is full of inspiration for school caterers to create appetising recipes that will encourage children to try new flavours. Our chef has prepared five delicious recipes using Millac Gold Single with influence from North and South India.
We wanted to demonstrate Millac Gold Single's reliability, performance, and functionality and invite school caterers looking for inspiration for National Curry Week to download our free recipe guide.''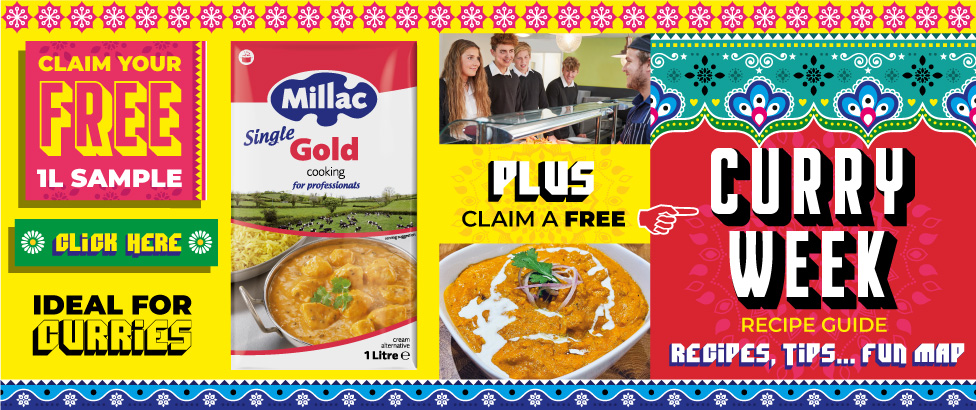 *NSMW poll 2018